What if you were a tree living in the front yard of a house?
Describe your surroundings, trying to see them through your unique perspective.
Imagine what you might see over your long lifetime, and how it might appear from your long-lived and stationary viewpoint.
If you write fiction, you might choose a viewpoint-tree from someplace important in your story, or from the childhood home of an important character.
Technorati Tags: prompts, write, writers, writing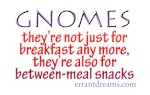 Gnomes for Breakfast–Cafepress T-shirts and Things