Today, take a look at the web site of the National Novel Writing Month and do one of two things:
Write for a page, brainstorming a project you'd like to do if you were to participate in this wild and wacky program.
Free-write for a page, listing out every possible project you can think of that you might work on if you were to participate.
Read the quote in this blog entry on writer's block and free-write a response for five to 15 minutes.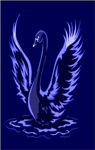 Blank Journals
Technorati Tags: free-writing, journaling, prompts, NaNoWriMo, write, writers, writing