I expect this blog won't be quite so useful to folks this month, since many people will be off working on National Novel-Writing Month. That won't stop me from continuing to post stuff for those of you who aren't doing it this year, or those of you who are but need ten or twenty minutes of warm-up on something totally different. (Not to mention it adds to the archived volume of stuff to go through for folks who want a selection to look through later.) Just don't let exercises distract you from your NaNo projects!
If you're a reader and participating in NaNo, drop by at the end of the month and let me know how you did! (Or use this thread to rejoice/vent about your progress so far.) I haven't tried it yet, largely due to being more comfortable with non-fiction than fiction. I'd love to see a non-fiction version of NaNo, but I also do want to give it a shot one of these years.
If you, like me, decided not to do NaNo this year but want to do it at some point, then make this your exercise today: free-write a list of ideas for future NaNo projects. Then keep that list around somewhere. Occasionally add to it, or brainstorm further details for any ideas that particularly appeal to you. Don't start actually writing it, though, unless you really can't help yourself–store up that energy and inspiration for the next NaNo!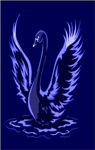 Blank Journals
Technorati Tags: free-writing, journaling, NaNoWriMo, prompts, write, writers, writing