Some of our plants are finally fruitful, but I'm not sure I'd call them entirely successful. The first zucchini plant got dug up so many times it finally died; the second might be following suit. I'm not sure what's digging them up, but suspects include the local bunnies, squirrels, and cats.
The medusa peppers were stunted by the overly-wet start to the summer I believe. Still, they have put out a fair number of yellow fruits. Unfortunately the most successful of them got hit by the weed-whacker. (Generally our lawn guy is extremely conscientious, so I can't bring myself to be annoyed—just disappointed.) The others seem to be slowly ripening, so hopefully they'll produce a few edible chilies. (Medusas are primarily ornamental, but they're also edible.)
One plant was supposed to be a medusa pepper, but instead seems to be something similar but not quite the same. It's producing smaller peppers with a rounded end that go straight from dark green to red, rather than spending most of their time in yellow. Unfortunately, that too got stunted. As you can see from the photo, it got VERY stunted: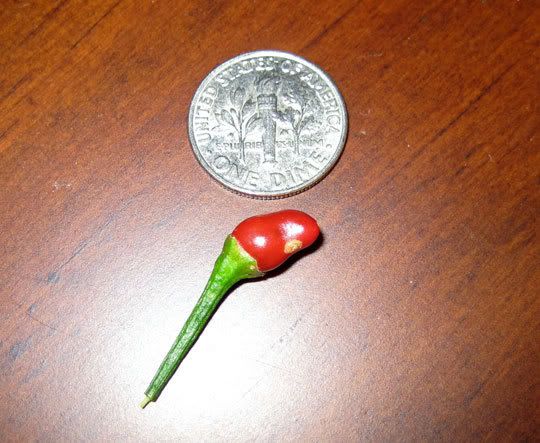 The wet weather blighted the tomato plants something fierce. We lost one ice tomato plant and all three yellow pear tomato plants to blight. We still have one ice tomato plant and two red cherry tomato plants hanging on to life. I did attempt to rescue those yellow pears that were struggling to ripen:

Yellow Pear by ~ErrantDreams on deviantART
There might not be many, but they're extremely flavorful. We also have a bunch of green ones that I'm hoping might ripen.
Finally, today's review is of Sarah McCarty's Running Wild.