Yay! I finally ordered an 8G memory card for my digital camera, so I won't be limited to 17 (yes, 17) pictures using the camera's original 32M card. Thankfully, memory cards are surprisingly non-expensive through Amazon these days. The trick is finding out which ones will supposedly work with your camera, of course. My camera says it'll take all SD, SDHC, and MultiMedia cards. The web site says to check with the card manufacturer to make sure. The card listings on Amazon all say to check with the camera manufacturer to make sure. Finally I found a frobbie on Sandisk's site (since it seemed that Sandisk had a good rep) that would let me input my device's info and then tell me which cards would work in it. $30 including shipping for an 8G card!
I doubt I'll be able to finish my current book in time for a review today, but we have a new design up at the cafepress shop called it's a quest thing:
And finally, two pictures of the gorgeous cloth we've picked up so far for garb-sewing experimentation: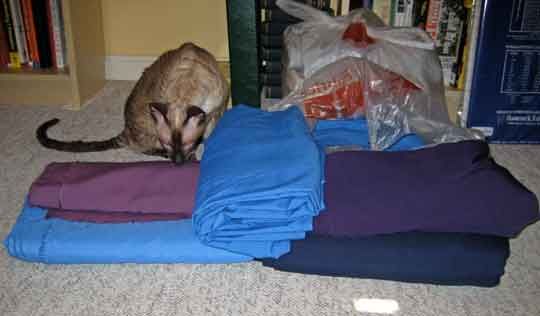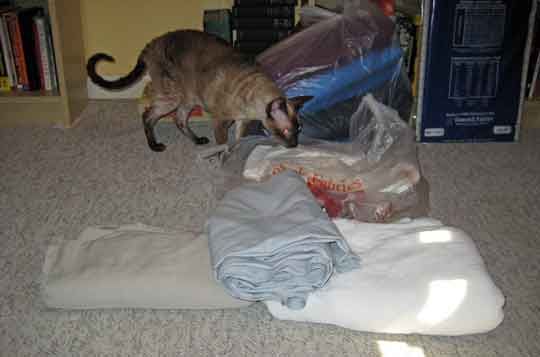 They're linen and linen-like cloth, in blues, purples, and white/natural/gray tones. And yes, that's Cahlash checking out the new toys.